Conference History - AAME 2021
AAME 2021 was originally planned to be held in Sanya, China. Due to the pandemic impact, the conference was held in conjunction with ICMMA 2021 via online platform during February 26-28, 2021.


Prof. Makoto Iwasaki & Prof. John Mo were delivering the Keynote Speech

Prof. Li CHENG & Prof. KHOO Boo Cheong were delivering the Keynote Speech
Photo Gallery



Excellent Oral Presentation Winners:
Session 1 - Mechanical Design and Manufacturing Engineering (AA21-410)
Presenter: J Liu
From: Xi'an Jiaotong-Liverpool University, China
Title: Development of An Intelligent Office Chair by Combining Vibrotactile and Visual Feedbacks
Session 3 - Mechanical Engineering and Engineering Physics (AA21-227)
Presenter: Guangyuan Liu
From: CARDC, China
Title: Experimental Investigations of the Flow through Slotted Wall in Transonic Wind Tunnel
Session 4 - Liquid Mechanics and Applied Mechanics (AA21-207E)
Presenter: Yuchen Sun
From: Shanghai Aircraft Design and Research Institute, China
Title: Comparison of RBFs Interpolation for Load Transfer on Beam Structure
Session 5 - Aerospace Engineering and Application (AA21-223)
Presenter: Anatolii Kretov
From: Nanjing University of Aeronautics and Astronautics, China
Title: The Problem of Elements Returning of Launch Vehicles and the Ways of Its Solution
Conference Proceedings
AAME 2021 all accepted papers have been included in Journal of Physics: Conference Series, Vol. 1877.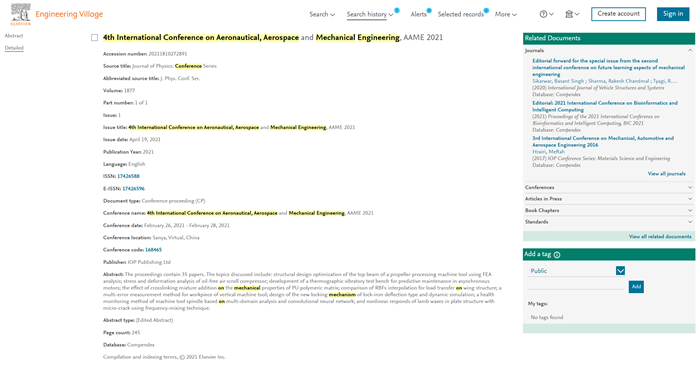 Papers of AAME2021 are indexed by Ei Compendex!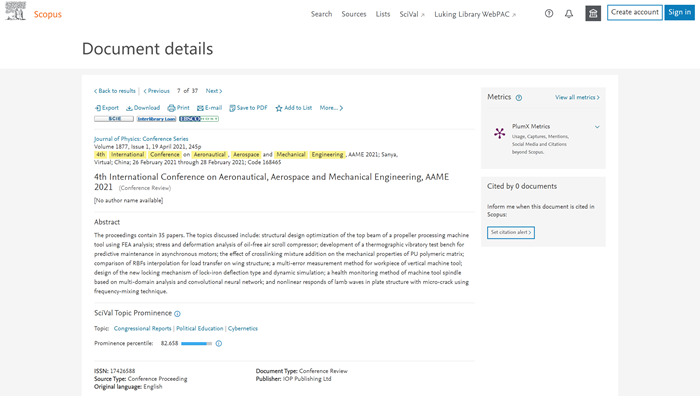 Papers of AAME2021 are indexed by Scopus!